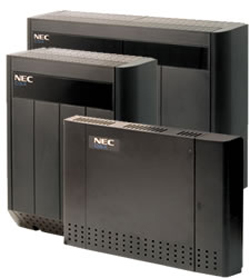 The NEC DSX40/80, delivers all the sophisticated communications features of a big-company system, in a super affordable package that comes fully loaded with advanced capabilities. The NEC DSX40/80 systems offer high performance, flexibility, and the ability to custom design a business phone system that will meet a company's specific telecommunication requirements, at very affordable prices. Each user has the capability to personalize their telephone keyset to meet their individual needs. The phones have an attractive floating design, with a built-in speakerphone and a two-position angle adjustment for effortless viewing of the large LCD display. And the innovations don't stop with the DSX telephones. Right out of the box, the DSX-40 system has a built-in Automated Attendant which can answer incoming calls, play a greeting, and allow callers to dial extensions and departments directly without operator assistance or additional equipment.

The NEC DSX40/80 is Zeracom's affordable business phone system solution for the 3 to 15 employee small business. It's capable of doing just about everything a small business would want and comes at a price that a small business can easily afford. Our telecom technicians will make the installation go quickly, so business downtime is minimal to non-existent. And if you need to expand your system in the future, its easy with the NEC DSX.

The NEC DSX PBX delivers a powerful telephone communications system right out of the box, giving your organization a jump start on the competition.

Built-In Caller ID: The caller's name (if available) and number are clearly displayed on both the large 3-line display of the phone sets.
VoIP Capabilities: The NEC DSX offer two models of VoIP telephones, for on site or off site connectivity.
Automated Attendant: There is a two port automated attendant built in to every DSX telephone system. It can be user to answer calls and direct them to the right department or person during business hours and night mode. This feature allows companies to handle calls efficiently at all times.
Call Waiting Caller ID: The DSX has this feature, which is beneficial to know what party is waiting for your attention.
Cordless phone option: There are two cordless phones that connect directly to a digital station port, the Cordless DECT and the Cordless Lite II.
Boost Efficiency and make your small business Big with a new NEC DSX phone system from Zeracom.
Not only will you save thousands by purchasing the NEC DSX telephone system, with an online demo tutorial you can find the solution to change the programming yourself. NEC DSX Programming Solution Tutorials Online
Our DSX solution will keep you in your budget.

"Connect the right people in the right way at the right time."
voice | data | networking | video