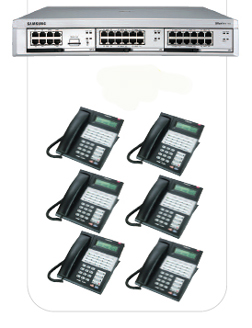 Samsung's OfficeServ 7100 is the perfect choice for businesses looking for an economical PBX phone system that accommodates expansion as well as wireless and VoIP technology. A single compact platform links wireless and wire line connections, voice and data - providing connectivity and substantial cost savings from all-in-on technology.
The OfficeServ 7100 comes with everything you'll need to get started. It's prepackaged, preprogrammed and pre-labeled, so when our technician comes on site, it will be installed and up and running in no time. Your business will be communicating with an auto-attendant, voicemail and many other features that you want in a business PBX.
Samsung has designed a system that comes right out of the box with 6 phones, making it easy for small businesses to get going fast. Adding additional phones to meet your needs is easy, taking the complexity out of getting a state of the art digital phone system. Additionally, expanding your system to incorporate VoIP technology is already in place. The OfficeServ 7100 allows you to pay for the system that you need today, while still retaining the ability to expand later to an IP (VoIP) system which you may need tomorrow. It brings all the technologies that you may want to the table, making it the complete voice solution for the growing company. easily expandable to 24 desk-sets, the OfficeServ has been turning heads and winning awards since its introduction.
The design of the 7100 speaks crisp, smart looks coupled with mounting options that include wall mounting, setting it on a desk or shelve to rack mounting.
The OfficeServ 7100 will get you great technology for today and tomorrow. Get a quote from Zeracom, South Carolina's Samsung authorized dealer today.

"Connect the right people in the right way at the right time."
voice | data | networking | video